This video for Chelsea Wolfe's single "Carrion Flowers" has a major True Detective vibe going on. Beautiful and creepy at the same time. I can't wait for Abyss to arrive on 8/7/2015.  You can pre-order it over here –> Chelsea Wolfe – Abyss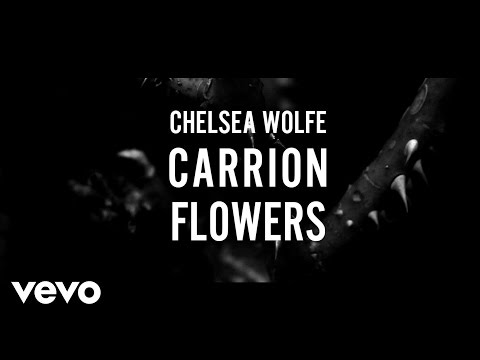 BELLINGHAM!  She is coming to visit us no 10/2 at The Shakedown (WITH MAMMIFER!).
Just to remind people:  Under The Needle was created as an outlet for us to share albums we have recently been listening to.  These albums are created by bands that deserve your support and money.  I mean, think about how big music is in your life.  We don't have a style of music that we cover and not everyone will like what we post about.  If one person that didn't know about one of these albums enjoys it and in turn supports that band…it is all worth it.  There are links to purchase the music in this post but we also urge you to go support your local record stores if possible!
---
Mutoid Man — Bleeder
mutoidman.com
Sargent House
Bleeder is one of those albums that gets better and better and better with each listen.  That is a crazy thought considering the first time I streamed it over at Noisey my mind went immediately to potential album of the year.  It is the first full length from the New York band.  They are vets in the heavy music scene but there is no complacency here.  Their sound is hungry and exploratory.  The fellas in the band are fans of weed and any listener that partakes will feel a certain kinship with them.  The furious pace they play at makes it seem more like a brain massage than anything else.  That being said, you don't need to be a stoner to appreciate their music.  It is filled with technical excellence and the vocals are super clear and direct.  It seems like an album that should appeal to people that are into all genres of rock.  I can go on and on but all I really want to say is I am crossing my fingers for a tour to the PNW.    Purchase a copy of black or translucent red vinyl over here –> Mutoid Man – Bleeder
---
Fight Amp — Constantly Off
fightamp.com
Brutal Panda
Over the past few years I have been becoming increasingly interested in the Philly noise rock scene.  So many great bands have been coming out of there and Fight Amp seems to be the one that gets the most national press.  Their last album, Birth Control, was my introduction to the music coming out of that part of the country.  They visited our small town of Bellingham, WA and proceeded to melt the small but enthusiastic crowd's minds.  The songs on Constantly Off  are more concise than those on Birth Control.  Not one track breaches four minutes.  That is OK with me though.  They get to the point and have no filler.  Once Constantly Off ends, the next thing you want to do is play it again.  It is that damn good.  Purchase one with black vinyl/black artwork or one with yellow vinyl/yellow and royal blue artwork over here –> Fight Amp – Constantly Off
---
Blanck Mass — Dumb Flesh
Blanck Mass on Facebook
Sacred Bones Records
I would consider myself a casual Fuck Buttons fan.  Not because I don't enjoy their music.  I do.  I have seen them live as well.  I just have never owned one of their albums and couldn't tell you track or album titles.  Blanck Mass is the solo project from Benjamin John Power.  Dumb Flesh is a triumph.  Every song feels that way.  The opening track has distorted vocals that remind me of the little guy in the red room from Twin Peaks.  It is a dreamy track almost meant to get your mind ready.  Throw away what you always thought was dance music because THIS is what gets my rump shaking.  The in your face, thumping track "Dead Format" is not what you should expect throughout the entire album.  There are atmospheric tracks, noise tracks, creepy tracks but they all have that one thing in common…it will make you move.  My wife thought I looked like Agador from The Birdcage dancing around cleaning the house while blasting this in my headphones wearing running shorts.  Maybe too much info but you need to get a copy of this.  Too late to get a copy with a human tooth (for reals) but you can still pick up a copy on vinyl over here –> Blanck Mass – Dumb Flesh
You really should get his one on vinyl.  The vinyl edition has a track on side D called "Life Science (Ambient Suite)" that exceeds 17 minutes.  This album is a must own.
---
Death Grips — The Powers That B
thirdworlds.net
Harvest/Third Worlds
Death Grips released the first half of the double album The Powers That B last year.  It is called niggas on the moon and I have been chewing on that one for a while.  I couldn't quite put my finger on how I felt about it.  Using Bjork's voice as a "found object" was an interesting idea but it felt like it was missing something so I never really had much to say about it.  Once the second half of the double album was released, Jenny Death, it felt complete.  niggas on the moon as a companion to Jenny Death is my jam.  The Powers That B proves that Death Grips are not a blip on a media buzz powered wave.  Tera Melos guitarist, Nick Reinhardt, has made comments on twitter claiming that Death Grips could be this generations Devo.  Reinhardt lends a hand on Jenny Death to boot.  Both discs have their unique sound and I recommend it to everyone, even the haters.  The duration of both sides eclipses 80 minutes (the standard blank cd length) so it is tough to burn it and bring it in your car.  Pick up a copy on vinyl over here –> Death Grips – The Powers That B
View full post
NEW GAYTHEIST MUSIC!!!!  That is how my morning started yesterday when they unleashed their split with Salt Lake City's Baby Gurl.  These two songs from each band will have you hitting repeat for days.  I …